I feel like I haven't posted anything in a long time. I have really great fall pictures on my camera I want to post, but that will have to be later. The sad thing is that fall here is pretty much over now. The deciduous trees are nearly bare, the weather is getting colder, and the days are now 9 hours 36 minutes long. There still hasn't been any snow yet though.
Last Friday or Saturday night, Becky and I saw the aurora for the first time. It wasn't as impressive as pictures make it out to be. It basically looks like a swiftly changing cloud lit up by a full moon. It looked quite pale and didn't have the vibrant green colors you see in pictures like this: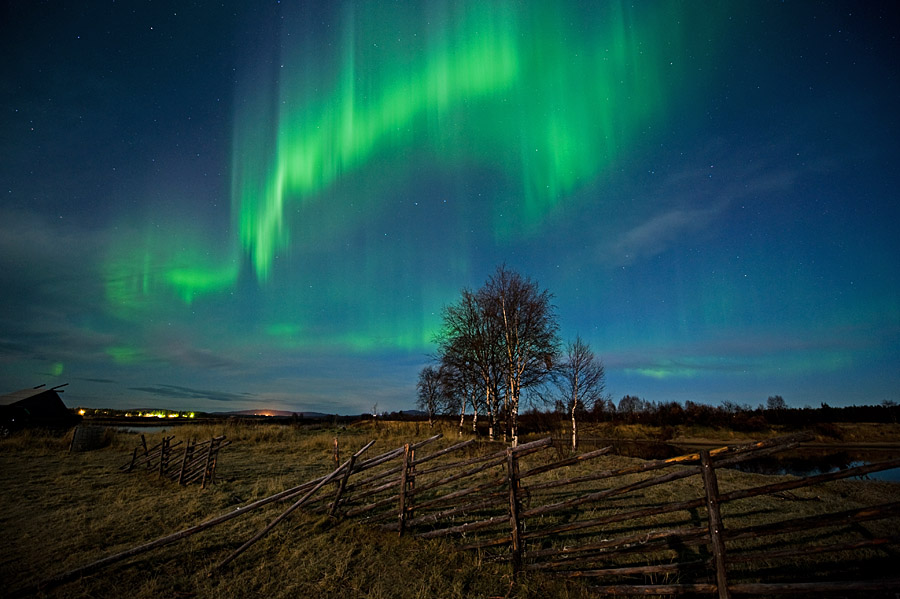 The camera I have won't let me set the exposure time longer than 2 seconds, so I have essentially no chance of photographing the northern lights.
On Sunday night, I went to 45 Special (my favorite bar in Oulu) and saw a popular Finnish band called Viikate. I also saw them the last time I was in Oulu. They are pretty talented.
Lately, I've been kept pretty busy with writing an application for telescope time and a proposal for a Fellowship that sounds really good. I also had to read through the proofs of the last paper of my dissertation, which should be published soon. That can actually be a lot harder than it seems, depending on how good your proofreader is. Unfortunately, the proofreader I had on this last paper wasn't as good as on my previous papers.
Today was the first day in a while where I felt like I could take a breather, so I decided to let my computer do some work for me while I played around with the format of my blog. As you may or may not have noticed, you can now Digg individual posts on my blog if you want. I've also signed up for Twitter and placed a feed in the right column so you can feel like "big brother" and track my every move. I've also started to really use Google Reader and I love it. The cool thing about it is that you can "share" any of the posts you read, so I've also set up a feed that lists some of my most recent shared posts.
Stay tuned for pictures!